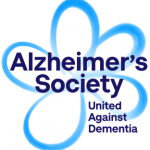 Why are Secure Healthcare supporting Alzheimer's Society United Against Dementia?

We are delighted to be working and supporting the Alzheimer's Society because Alzheimer's is the 21st century's biggest killer. Science shows that dementia will affect 1 in 3 people and can devastate families, but we believe that we can help beat Alzheimer's together. Dementia currently affects around 850,000 people in the UK, with a staggering one in 14 people over the age of 65 living with the condition. We believe that everyone shares a responsibility for ensuring that people with dementia feel understood, valued and able to contribute to their community.
There are a number of diseases that result in dementia, with the most common cause being Alzheimer's disease. This is where an abnormal amount of protein surrounds brain cells and another protein damages their internal structure. Over time the chemical connections between brain cells are lost and cells begin to die.
Another common type of dementia is vascular dementia; this occurs when the oxygen supply to the brain is reduced because of narrowing or blockage of blood vessels, leading to brain cells becoming damaged or dying. The symptoms can occur suddenly, following a stroke, or develop over time after a series of small strokes.
If you are interested in supporting our cause and helping those with Alzheimers and preparing for a world without the disease, we'd be grateful if you could visit our Just Giving page and donate as little or as much as you can here. We really count on and appreciate your kind generosity.
For more information on dementia, visit alzheimers.org.uk. If you think that you or anyone you know may have dementia, it is important to visit your GP or talk to one of our care professionals at Secure Healthcare Solutions.