In 2020, home care nursing was the second fastest growing job sector in the UK, with an increase of over 150%, according to data published by Indeed. 7 out of the top 10 fastest growing jobs are in the healthcare sector.
Although there are nurse staffing shortages, and with the COVID 19 pandemic, there has been an increased need for Nurses, this highlights that there are opportunities for Nurses to explore career options and to discover new nursing roles. With an increase for the number of home care jobs, we understand that it is important to educate nurses to adapt and make moves from a hospital environment to home care.
71% of people that require care and support, prefer to remain in their own home, as they age. We live in an ageing population and the number of individuals requiring care and support continues to increase. With a growing need of individuals preferring home care close to their loved ones and around their loved ones, there is a growing need for Nurses to work within a home care setting.
For a Nurse job, a nurse degree will be required. Individuals will start nursing careers as registered general nurses and have opportunities to progress careers to become specialist nurses.
For a Nursing Degree, there is grants available to receive £5,000 funded by the government to support with university fees. Click here to find out more.
Nurses.co.uk outlines that there are over 669,854 registered Nurses in the UK and a nursing degree is considered to be the most employable in the UK, 94% of graduates discover a job within 6 months of finishing their degree. When starting your career within the nursing industry, it is a job for life and it has excellent career progression opportunities, depending on your willingness to gain qualifications and experience.
Some of the major benefits of working as a Nurse at Secure Healthcare Solutions within a home care environment include:
– Rewarding salaries, higher compared to RGN roles in hospitals
– Flexible shifts around your availability
– Healthier relationships with service users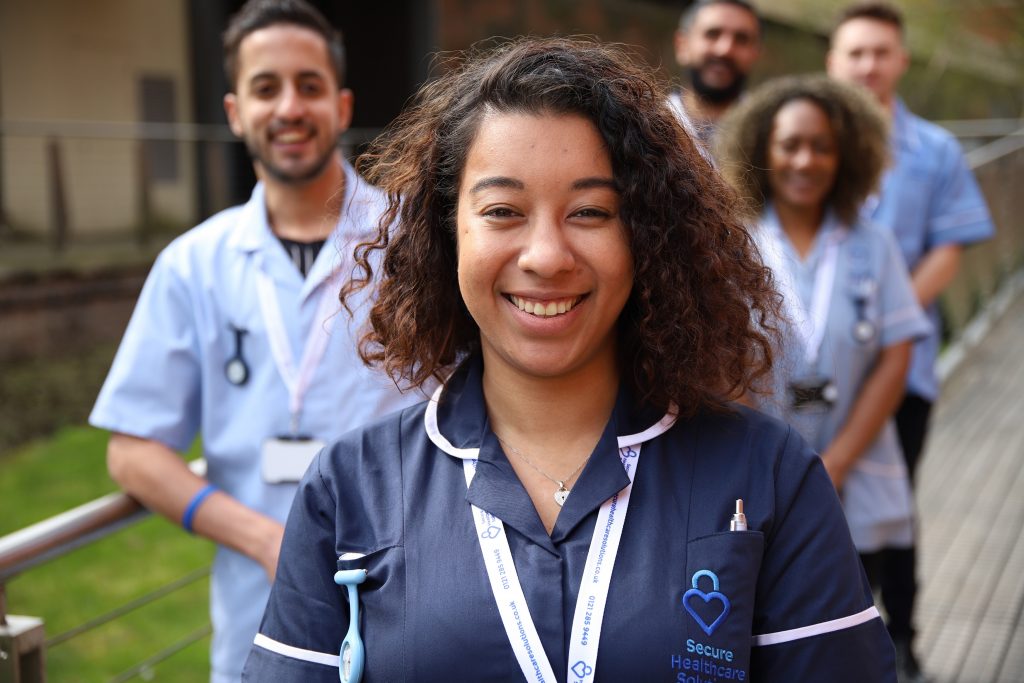 Within the UK, there is various different types of Nurses in the UK. A RGN is the most common type of Nurse in the UK. This is the best way to start your Nursing profession, after getting your Nursing licence. Within the homecare environment, Nurses will work closely with healthcare staff, CCG's and doctors to ensure quality care and support has been provided. You then have opportunities to progress to become RNLD or RMN nurses, where qualifications and training will be required.
Some of the key responsibilities of a Nurse include:
Assisting in the safe ordering of medicines, storing and administering.
Completing nurse notes accurately, ensuring all notes are up to date.
Assessing care needs and ensuring care plans and records are assessed, up to date and accurate.
Visit the client daily to assess their needs, always seeking to improve care delivered to clients.
Ensure that each clients dignity is respected and client information is kept confidential.
Communicating with care home staff and nurses to share information about the patients care needs.
Attend and communicate in meetings if required, sharing important information.
Completing any other duties required by the care manager, senior nurse or doctors to meet the changing needs of the business.
As a healthcare agency, we are hiring registered nurses, RMN's and RNLD nurses within the West Midlands and Staffordshire for the NHS, hospitals, care homes and for home care. Here at Secure Healthcare Solutions, we provide our Nurses free training to allow them to become specialist Nurses and for career progression. Join our team of valued Nurses, where we offer great rewarding salaries and benefits.
Find out more about Nursing jobs in the West Midlands and Staffordshire, using our job search tool, or contact us on 0121 285 9449.