There is so many mental health and mental health disorders within the UK. Around one in four people experience mental health problems in England each year. Mental wellbeing is something we should never take for granted. Companies and people are now understanding that there is a need to better understand mental health.
According to the WHO, there are various types of mental health disorders, with a range of different problems and symptoms. They are generally associated with abnormal thoughts, perceptions, behaviours and relationships with others. Examples of various types of mental health disorders include, schizophrenia, depression, intellectual disabilities and disorders due to drug abuse.
Mental health nurses support and care a person's recovery to enable them to have more involvement and control over their condition. RMN's support individuals with various conditions such as personality disorders, eating disorders, schizophrenia and much more.
Mental health problems are not easy to identify and it requires a case manager to assess mental disorders. The purpose of this assessment is to identify tailored needs so quality care and support can be provided.
What qualifications do I need for Mental Health Nurse?
To begin your career in mental health nursing, you would need a degree in nursing, approved by the Nursing and Midwifery council, or a degree apprenticeship supported by your employer.
For a mental health nurse role (RMN), responsibilities will differ from service user to service user, depending on their conditions and individual needs.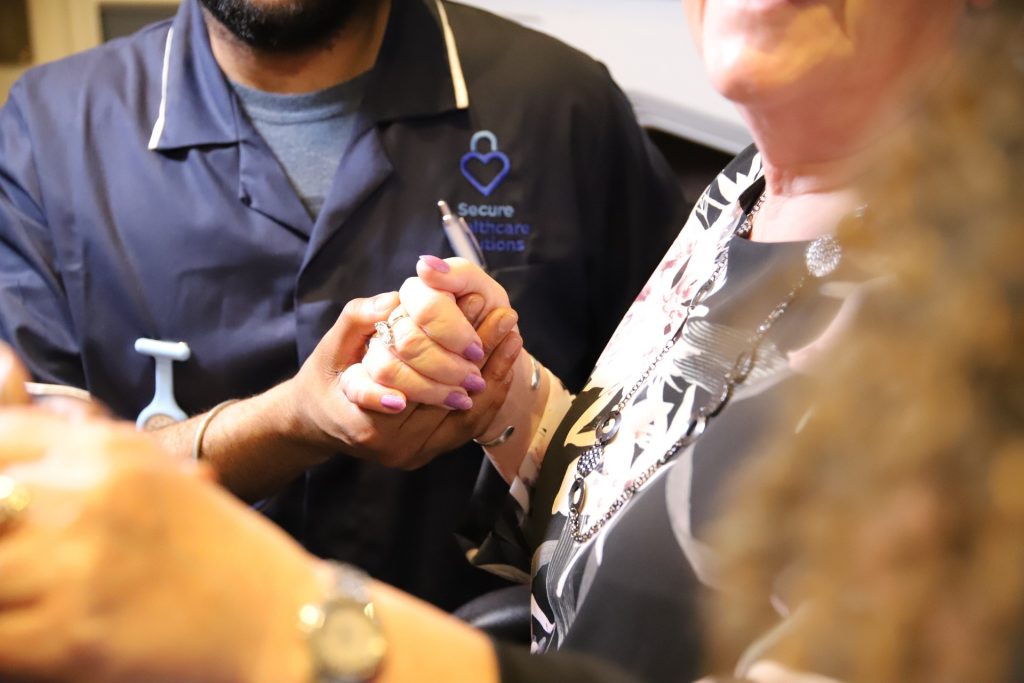 Some of the main responsibilities of a mental health nurse include:
– Assessing patients needs to provide the best care and talking to patients about their problems to discuss the best way to support and provide care for service users.
– Developing healthy relationships with patients to build trust, while understanding patient's needs and worries.
– Ensuring the correct management of medication, including injections and monitoring the results of treatment.
– Monitoring the physical health, well being and progress of patients. This includes writing and updating patient records.
– Work with patient's family members and carers to inform them about patient's mental health problems.
– Make sure that appropriate legal requirements of a particular setting are followed and patients are observed.
– Assist with helping organise social events to develop social skills and reduce feelings of isolation.
What are the benefits of working as a mental health nurse for Secure Healthcare?
– High rates of pay, above average compared to the NHS, weekly pay and holiday pay
Start within a week
– 24hrs around the clock support from the office team
– Free training and uniform provided
– Bonus referral schemes, receive up to £450 for referring Nurses, whether it is your friends or somebody in your family, get paid for referring.
– Pick up as many shifts as you want
We are a nursing agency in Wolverhampton and we have nurse vacancies in Wolverhampton, Birmingham and NHS nurse jobs across the West Midlands, if you think a mental health nurse (RMN) is the role for you, then check out latest jobs using our job search tool. We have a team of Specialist Nurses and we are continuously looking to grow our team by working with you.