Simple ways to improve mobility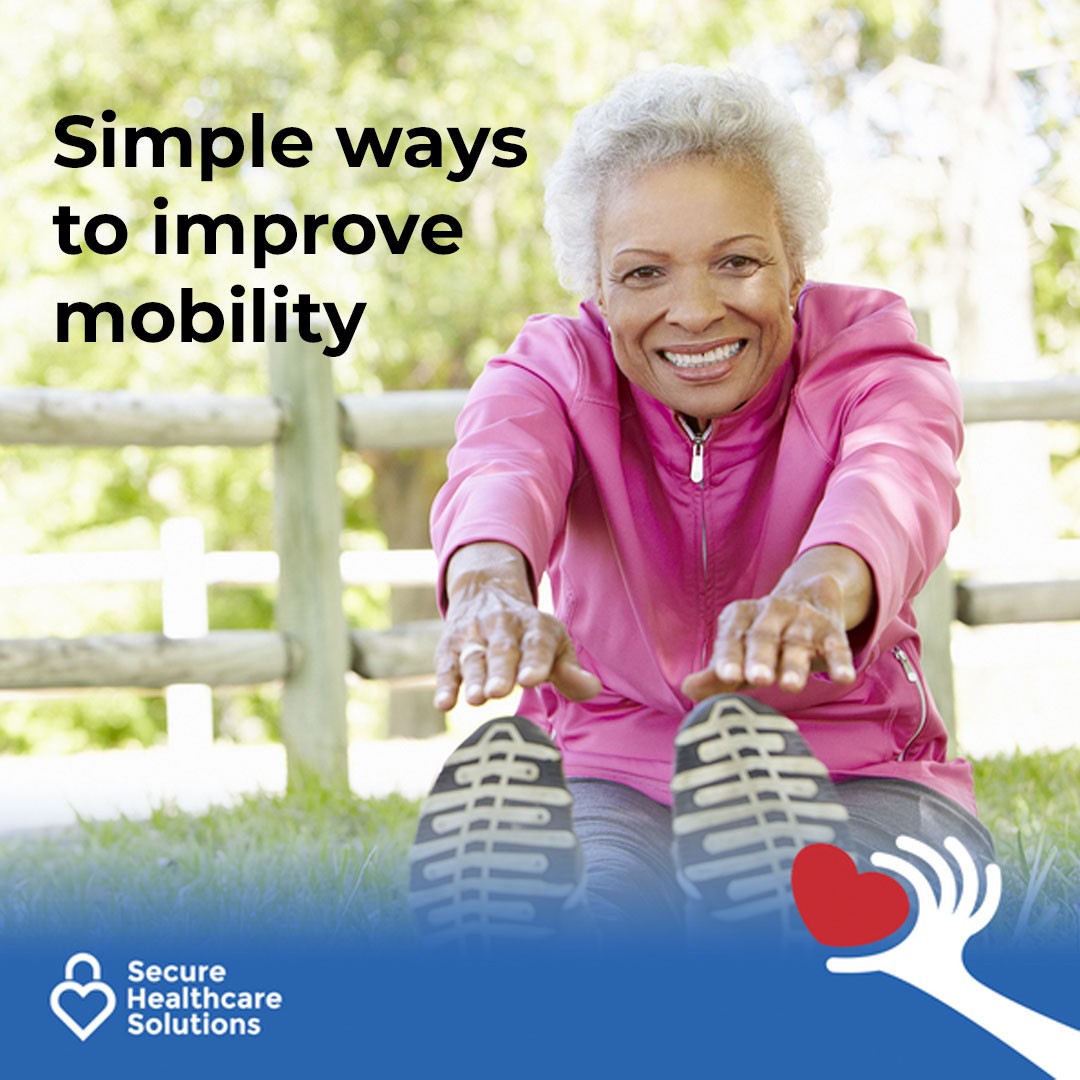 Mobility is the ability to move or be moved freely and easily. It's common knowledge that as we age we lose mobility - as we lose muscle mass, strength and bone density - but did you consider that sitting at a desk all day could also affect your mobility just as much as ageing does?

You might find that each time you get up from your desk it gets a little more difficult to do so, and this could be a sign that you need to work on your mobility. Losing mobility can negatively affect your balance, can result in chronic pain and risk of falls, alongside a long list of other physical and mental health problems.

What exactly is mobility in relation to our bodies? Shape.com explains that mobility is your ability to move a muscle or muscle group through a range of motion in the joint socket with control, and in order to move a muscle with control, you need strength. Mobility is dependent on our flexibility, strength, coordination and body awareness.

Shape.com adds that "connecting your breath with your movement is also thought to have a huge effect on how efficiently you move", and a great way to do this is by practising yoga or breathing exercises. In most parts of the UK, you can also find mobility-specific classes, such as those offered through Wickham's Movement Vault, or you could stream some online.

An important aspect of improving mobility is stretching, and the key to becoming more mobile is to do a little bit of stretching every day. The Healthline explains that static stretching, or holding one position for an extended period, might be one way to improve mobility, but "according to a study published in the Journal of Strength and Conditioning Research, it appears that dynamic stretching, or stretching while moving through a movement, is better than static stretching as part of a warmup.

"Just 10 minutes of dynamic warmup activities prior to a workout is linked to improvements in shuttle run time, medicine ball throw distance, and jump distance", if those things are important to you.

If you're new to mobility movements, here are a few simple exercises you could try:

1. Stand on one leg

Wellbeingcoaches.com says that "this is a daily exercise that is easy to do. Stand on one leg at a time for one minute each. Slowly increase the time. Try to balance with your eyes closed or without holding onto anything". You might need to work yourself up to balancing without holding onto something.

2. Stand on your toes

The website also explains that to do this move: "Stand on your toes for a count of 10, and then, rock back on your heels for a count of 10. This is such a simple exercise, and it works very well to improve your balance. Think about other times and places during the day when you can take 20 seconds to do it."

3. Move your hips

Wellbeingcoaches.com adds that "this is another exercise that you can do while you're on the phone or watching television. Stand up and move your hips in a big circle to the left, and then to the right without moving your shoulders or feet. Repeat in both directions five times."

4. Posterior step with overhead reach

Stand tall with feet hip-width apart. Take a small step back with arms stretched overhead and core braced. Touch the floor with the lunging heel. Push back with the posterior foot and return to start position.

5. Squat to overhead reach with a twist

Squat down and swing the arms down and back. Return to the standing position with arms stretched overhead while rotating the upper body to one side. Repeat on the other side.

6. Lunges

Step forward and bend knees, keep front shin vertical. Do not let knee travel forward of toes. Maintain upright torso and alternate legs rep by rep.

It's important before attempting any of the exercises suggested above that you consult your doctor. Dynamic stretches may not be appropriate for everyone, especially the elderly, those with previous injuries or joint replacements.
Why not share it with a friend?