Working as a healthcare assistant, the role is generally varied and can include working alongside Nurses in care homes, hospitals or within GP's.
If you are considering a career in care, then becoming an HCA could be the role for you to specialise.
For a HCA role, there is no set requirements, however there is certain skills and personal characteristics that you must have for you to pursue this career option.
– You need to be patient and have the ability to remain calm in stressful situations
– Have a caring and friendly personality
– For this role stamina and endurance is required, as there is a lot movement involved
– Great communication skills to use effectively with service users and great listening skills
– Ability to work well with others, this includes service users, healthcare professionals and with family members
– Excellent written and spoken English skills are required
– Willing to undertake personal care (washing, assisting with toilet etc.)
Working as HCA has many responsibilities, these could be regular routine responsibilities and can also change depending on the clients needs, you need to have the ability to adapt to certain situations.
As a healthcare assistant, you will be providing care and support to those in need:
– Washing and dressing patients if required
– Serving and assisting with food preparation to feed patients
– Assistance with movement around the house
– Making and changing beds
– Assistance with toileting
– Taking and recording basic interventions such as blood pressure, temperature and finger prick testing, weight etc.
– Listening and talking with patients
– Sterilising equipment
– Keeping supplies and equipment in order
– Administering basic medicine and bandaging wounds if required. For this, HCA's will be provided training to apply this
to service users
How Secure Healthcare could help?
Here at Secure Healthcare Solutions, we require 6 months experience and we provide full training to allow you to gain skills and knowledge to support service users. Our services are regulated by the CQC.
We will not throw you in the deep end, we can arrange shadow shifts to be completed. This is where, you will shadow a senior member of the team, allowing you to get hands on experience, gain confidence and understand the role. This is a great opportunity for you to ask any questions.
For our healthcare assistants, we provide ongoing support, through training and qualifications, we also supervise and carry out spot checks to identify any potential training needs.
At Secure Healthcare, you can choose when you want to work, so if you require full-time hours, part time or extra shifts alongside your regular job, then a flexible role could be just for you.
Secure Healthcare is always hiring health care assistants across the West Midlands and Staffordshire. We are always seeking highly passionate health care workers to join our care team. If you believe, you have the right skills and characteristics, or want to find out more about the benefits of working for Secure Healthcare.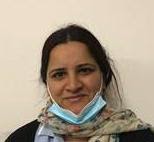 Sobia's experience of working as a healthcare assistant at Secure Healthcare.
"For a healthcare assistant role, you have to have a strong character and be passionate about providing care. Working as a carer is not an easy ride, there is daily responsibilities based on individual client needs, however there is unexpected challenges that arise over the course of providing care".
We have healthcare jobs across the Midlands & Staffordshire, whether you are seeking part time, full time or the odd shifts around your availability, then discover the latest roles using our job search tool or contact our recruitment team on 0121 285 9449.