When it comes to diabetes, one of the best ways to live with and manage it, is to research and improve your knowledge. With more knowledge comes a better understanding and recognition of how to improve your quality of life. Diabetes doesn't just affect a small part of you, it can affect your whole body. There is so much research out there it can get overwhelming so teaching yourself in small chunks is key. Due to this, we have put together a guide of 5 small tips for living with and managing diabetes. These tips are just the basics but it's always good to have a refresh, especially if you are newly diagnosed. We are also on hand for your diabetes care and if you find yourself asking "where can I find diabetes care near me?" we are on hand to help. 
Knowledge Is Power
Understanding and educating yourself about diabetes can make the process a lot less stressful. Although they are complicated diseases, do not be scared to read up about them and to learn more. Try to listen to podcasts, read books and watch tv shows about it. The more you actively try to learn, the more you will take in and the more you will understand. Many experts will be able to give you tips and tricks to make the process of living with diabetes as straightforward as possible. 
Be Active 
Along with helping with your diabetes, exercise has many other benefits such as reducing your stress levels, increasing your muscle mass and losing weight. Throughout the week, try and set a target of exercising three times. Vary these exercises with strength training to increase your muscle strength and cardio exercises like fast walking or running. There are many apps that you can download which will help you stick to a target or support your exercise journey. If you are at an unhealthy weight, by losing this you will find it easier to manage your diabetes. Your diabetes care team can also help with this.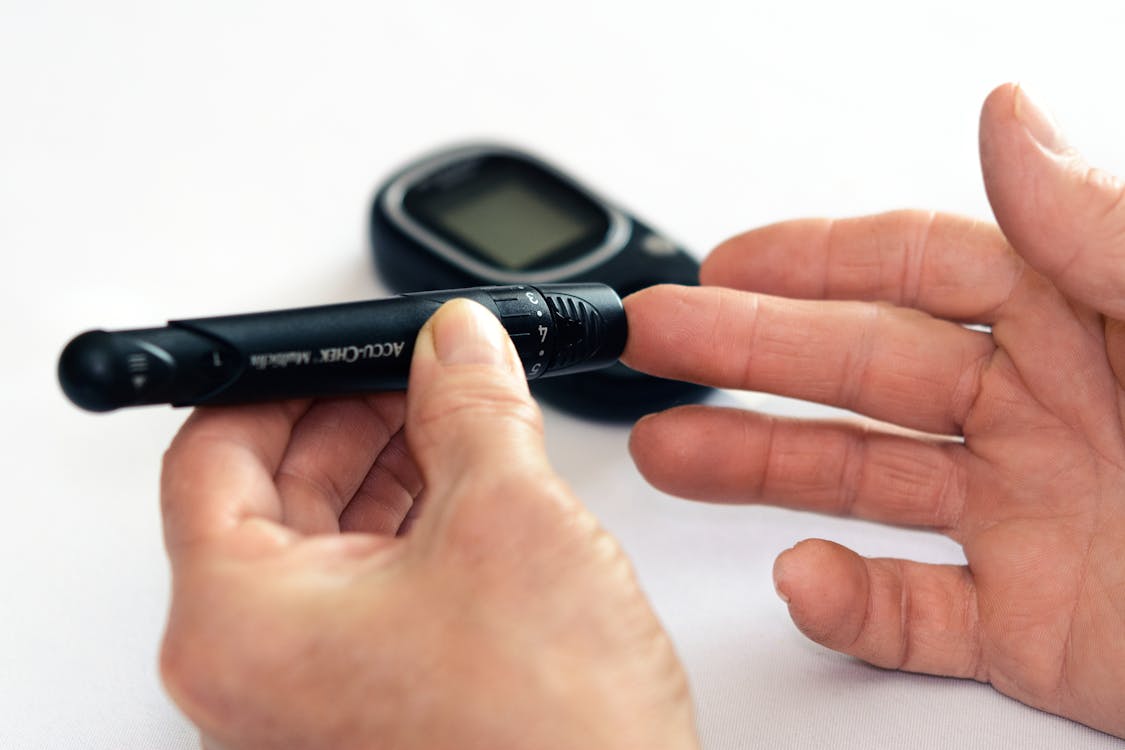 Photo by PhotoMIX Company from Pexels
Everybody Is Different 
Always follow the professional advice given but remember everybody is different. What works for someone may not work for you, and that is alright. Some of the advice given may not work but don't feel down and stressed about it. Try other experts advice and you may find that works perfectly. No-one knows your body better than you, so don't put much pressure on yourself. 
Eat Smaller Portions But More Often 
When suffering from diabetes it is advised you eat small meals throughout the day instead of eating the standard three larger meals. The reason for this is that by eating smaller but more often can help regulate your blood sugar levels easier. Make sure you have a good diet at this will help in many ways from improving digestion to reducing tiredness. 
Make a plan
Listen to the experts and make a plan with them to help manage your diabetes. By leaning on your diabetes educator, they will help assist you with improving your diet and how to get active. Try to work with your educator to make your plan realistic and achievable, that way you have the motivation to stick with it. Our team at Secure Health Care solution will help you with your plan, supporting you with meal plans, shopping for your ingredients and managing everyday symptoms like hunger, amongst other things.
If you are looking for diabetes care near you, we are on hand to help. Get in touch today and find diabetes care near you.
We also have a range of home care jobs including looking after diabetes care. Look at our current healthcare job roles here.