Nursing is a profession within the health care sector focused on the care of individuals, families, and communities so they may attain, maintain, or recover optimal health and quality of life. We specialise in providing nursing jobs in the healthcare industry. We successfully place permanent candidates in their dream jobs and we have a great reputation of placing temporary nurses on an adhoc agency basis. Specialising in Nursing and Care home, mental health, learning disabilities, community nursing, NHS, Private Hospitals and prisons to name a few.
Started in the West Midlands … and growing fast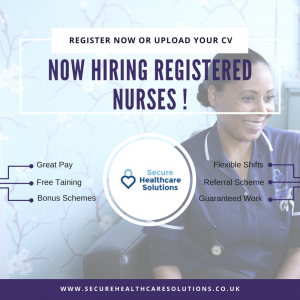 With offices in Wolverhampton, Birmingham, London, our Nursing Teams have relationships with a huge number of healthcare providers. Whether you're looking for nurse jobs just round the corner from where you live or further afield, we'll find the right role for you.
Our relationship with private healthcare providers, NHS mean that we can offer a wider variety of settings to our candidates. Not only general Nurse jobs but also specialist roles such as  ITU nursing, Theatre, ODP/ODA, RSCN and pediatric on a temporary and permanent basis.
Competitive pay rates and weekly payments
Rewarding the best; in a rewarding career – We care about and support all our employees. To attract the best candidates, our pay rates are amongst the highest in the industry.
Personalised support
Our Clinical Lead Nurse is here to provide expert advice – from identifying additional training to supporting you to write a reflective statement. We'll also help you create a Continuing Professional Development Plan.
Training
To enable you to start working as quickly as possible we offer a choice of online modules, in house training or practical training with one of our accredited partners. We've recently added a one day Managing and Preventing Aggression (MAPA) course to our in-house options.
We cover nationwide over the whole of the UK and supply to NHS hospitals, private healthcare groups, theatre departments, mental health units and prisons. We have nurse jobs for days, nights or weekend workers, and can accommodate part timers who are only looking for one or two shifts per month or the candidates wanting more.
Looking for a Nursing Job in West Midlands ? … Look no further !
Secure Healthcare can ensure General and Specialist Nurses are placed in a setting that meets their skills, wants and desires on a temporary or permanent basis.
Registered General Nurses
Registered Mental Health Nurses
Registered Learning Disability Nurses
Advanced Nurse Practitioner
Practice Nurse
Pediatric Nurse
Complex Care Nurse
Theatre Nurse
A&E Nurse
Dialysis Nurse
Palliative Care Nurses
School Nurses
Prison Nurses
Respiratory Nurses
Community Nurses

Full-time agency work

Full-time agency workers are welcome, with block bookings and contracts available.

Benefits of working with Secure Healthcare
High pay rates
Flexible shifts
Regular shifts
Block bookings
Online timesheets
Dedicated Consultant
Refer a friend scheme
Free Uniform
Free Training
Meet and Greet (First Shift)
Internal Taxi Service for shifts
Onsite Financial Advice